Crested Butte will host the only U.S. stop of the Enduro World Series in 2015. The three day event will blend high altitude backcountry adventures mixed with some of the biggest descents in the area. Expect a heavy pro field and the largest cash payout of any 2015 BME event. This special gem of a place tucked deep in the Rockies and surrounded by wilderness, holds the longest running bike festival in the country and is a true mountain town with more miles of singletrack than any other location in the U.S. Legend has it, that Crested Butte is the birthplace of mountain biking and we are going to take you back to the roots of riding big mountains at high elevations around Crested Butte. Riders will be challenged with three days of racing, with big climbing transitions that will take you to high alpine passes overlooking majestic peaks.
The Crested Butte Big Mountain Enduro will encompass nearly 18,000 feet of descending over the course of three days.  Expect big days on the bike averaging 23 miles per day, high alpine elevations surpassing 12,500′ and definitely some exploratory hike-a-bike climbs thrown into the mix. The terrain and descents will contain a variety of above-tree line stages, many high speed sections that CB is known for, technical rocky/rooty trails, steep and raw trails that will keep riders on their toes, some classic bench-cut Colorado singletrack, mixed with endless scenery that will leave lasting memories of this rugged mountain paradise. Riders should be prepared with necessary parts, clothing and food, as each day will be deep in the backcountry, with river crossings and mountainous weather that can be threatening at any moment this time of year. This race will be a true test of mental strength, fitness and require a huge sense of adventure to get through all three demanding race days.
Registration Includes:
Shuttles for all race days
Lift ticket for Evolution Bike Park
Coffee and Oskar Blues beer each race day
Breakfast (provided by Chris King) and lunch provided by BME
Full medical support
Large Awards Ceremony, Raffle and $15,000 USD pro purse
Donation to CBMBA (Crested Butte Mountain Bike Association)
Weekend Schedule
Wednesday: Maps and courses released at 8 a.m. Packet pick up from 9 a.m. to 5 p.m. located at the BME sponsor village in the Town Park
Thursday: Official practice Day and Mandatory Rider's Meeting at 7 p.m.
Friday: Day 1 Race
Saturday: Day 2 Race
Sunday: Day 3 Race, Awards at 5 p.m. and live music and BME post-party at 6 p.m.
Crested Butte trainning letter Crested Butte letter
Courses
In the spirit of enduro, course profiles will be given out on Wednesday before the race weekend, thus giving riders one day to scope out trails and form their race strategy. Maps and info will be posted and download-able online via BME website and social media, through the Enduro World Series outlets and on Pinkbike. Printed race booklets with detailed maps will also be available for all riders on Wednesday at packet pick up taking place in the BME event headquarters in the Town Park.
Friday: 5,600 feet (1705 m) climbing, 6,500 feet (1980 m) descending, 2 stages, GC=27 minutes for Pro Men BME EWS Crested Butte Map Day 1
Saturday: 5,500 feet (1676 m) climbing, 5,500 feet (1676 m) descending, 2 stages, GC=25 minutes for Pro Men BME EWS Crested Butte Map Day 2
Sunday: 2,600 feet (793 m) climbing, 5,900 (1800 m) descending, 4 stages, GC=28 minutes for Pro Men BME EWS Crested Butte Map Day 3
The starting order will be very strict and  shuttles will be assigned to every racer this weekend so please check the BME Crested Butte EWS Start List
TOTALS: 13,500 feet (4115 m) climbing, 17,700 feet (5395 m) descending, 8 stages, GC=80 minutes for pro men, 23 miles on average per day on bike.
On-Site Support
CLIF Bar will be on-site at Big Mountain Enduro in Crested Butte with a fuel station stocked with some of our more well known products including CLIF Bar Minis, CLIF SHOT Gels and CLIF SHOT Bloks as well as some new additions to the CLIF family which include CLIF Organic Energy Food and CLIF Organic Trail Mix Bars!
CLIF Organic Energy Food is the next generation of sports nutrition delivering delicious sweet or savory real food recipes for athletes in a resealable pouch. CLIF Organic Trail Mix Bars are delicious, convenient and certified USDA organic! These bars are made with nutritious ingredients such as tender fruit, dark chocolate and whole nuts. Whether pushing through a long climb or crushing the descent, CLIF Bar will keep you energized throughout the day!
Be prepared to stock up for most of the day, as many of the days will be remote in the backcountry, and you will be able to access the fuel stations at the beginning and end of the day.
Mavic will be providing neutral tech support for riders during the Big Mountain Enduro Series in Crested Butte. This service will be available during each day of racing and Mavic's professional technicians will handle riders' needs, except for suspension overhauls. Also look for them within the sponsor village and tech expo throughout the weekend for additional support and Mavic product information.
Crested Butte Official Lodging Partners

Experience the old-world elegance and comfort of The Elk Mountain Lodge, Crested Butte Colorado's Historic Hotel & Inn. Built in 1919 as a miner's hotel, the lodge has a touch of the past with modern conveniences. The Elk Mountain Lodge defines the true character of Crested Butte. The authentic feel and elegant finish of the common lobby, bar, and sun room leave our guests feeling relaxed and spread out.
Located only 1 block from Elk Ave and Crested Butte's finest restaurants, the lodge has become the premier hotel in the Historic district.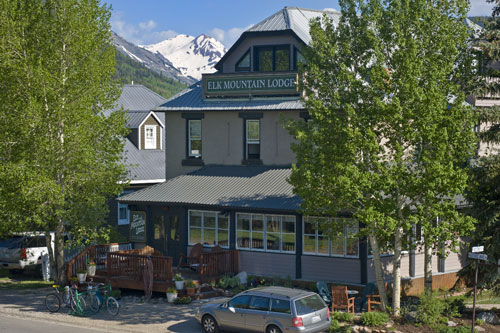 Completely and beautifully renovated, this one of a kind Crested Butte Hotel features a complimentary full breakfast and 19 guest rooms each with private bathroom, Cable TV, wireless internet, and telephone with voice-mail. Queen, Twin, and King bedrooms available.
All the guest accommodations at Elk Mountain Lodge are individually decorated. Third floor rooms have balconies with spectacular Colorado Rocky Mountain views of the Crested Butte Mountain Resort and the surrounding Elk Mountains. After a long day of skiing or mountain biking our guests relax in the indoor hot tub room or the lobby bar which is open each evening.
We cater to Skiers & Mountain Bikers and are a great place for teams, with an on-site bar and meeting areas.
For more details visit www.elkmountainlodge.com or book online. Use access code BME2015 for 10% off, or 15% off for 5 or more nights. Offer valid through May 15, 2015.
The Grand Lodge
The Grand Lodge is conveniently located at the base of Crested Butte Mountain Resort, and is offering a special rate of 20% off for Big Mountain Enduro participants through May 25, 2015.
Call Crested Butte Vacations at 855-421-1257 and mention Big Mountain Enduro to book lodging at the discounted rates.
Hotel Rooms & Suites The Grand Lodge Crested Butte features 226 oversized hotel rooms and spacious suites to accommodate all types of travelers. Every room is surprisingly affordable and includes comforts and conveniences to make your stay ideal, any time of the year. Each room at the Grand Lodge is equipped with a ceiling fan, box fan, and at least one opening window to assist with climate control.
Climate Control Each room at the Grand Lodge is equipped with a ceiling fan, box fan, and at least one opening window to assist with climate control. Consistent with most Colorado mountain resorts, the Grand Lodge does not offer air-conditioning in guest rooms.
Pet Friendly Property The Grand Lodge welcomes well-behaved dogs of all shapes and sizes. Pet friendly rooms are limited, so please reserve in advance. A nightly $30 fee for each pet will be charged to your room, and a portion of this fee will be donated to P.A.W.S., a local animal rescue service.
Additional Lodging Options
Elevation Hotel & Spa
The Elevation Hotel & Spa is offering special rates to participants of the Enduro World Series Mountain Bike Race. Book on-line at www.elevationresort.com using the promotion code "ENDURO" to receive an savings of 5% nightly on your room rate. Visit www.gunnisoncrestedbutte.com for more details.
Starting Price: $130 | Offer Valid Through: August 10 | Must Book By: June 26
Alpine Property Management
If you have not booked your accommodations yet, and are finding availability is scarce, Alpine Property Management still has properties available during the week of the Crested Butte Ultra Enduro.
P.O. Box 2303
Crested Butte, CO  81224
(970) 349-1209
Purple Mountain B&B, (877) 349-5888: www.purplemountainlodge.com
Crested Butte Lodging and Property Management, (800) 451-5699: www.crestedbuttelodging.com
The Nordic Inn, (970) 349-5542: www.nordicinncb.com
Lodge at Mountaineer Square, (877) 547-5142: www.skicb.com
The Inn at Crested Butte, (977) 349-2111: www.innatcrestedbutte.com
Gateway Condominiums, (800) 491-9657: www.skicb.com
Paradise Condos, (877) 547-5143: www.skicb.com
The Inn At Tomichi Village, (970) 641-1131: www.theinntv.com/
Holiday Inn Express & Suites, (877) 410-6667: http://www.hiexpress.com/hotels/us/en/
Quality Inn, (970) 641-1237: www.qualityinn.com
Rodeway Inn, (970) 641-0500: www.rodewayinn.com/hotel-gunnison-colorado-CO737
Econo Lodge, (970) 641-3068: www.econolodge.com/hotel-gunnison-colorado-CO308
Camping in Crested Butte
Crested Butte is home to many quiet and beautiful campgrounds available to everyone. Several campgrounds are located near Mt. Crested Butte, Crested Butte and CB South. There are a number of developed campgrounds in the area, but there are also thousands of acres of National Forest land with unimproved car camp sites. Bring everything you need: there are no facilities. However, there are many, many beautiful sites to choose from in practically all the river valleys surrounding Crested Butte. First come, first served.
| | | |
| --- | --- | --- |
| Location | Distance from CB | Reservations needed |
| Lake Irwin Campground | 7 mi | yes |
| Cement Creek | 11 mi | yes |
| Brush Creek | 4+ mi | no |
| Slate River | 3+ mi | no |
| Washington Gulch | 4+ mi | no |
There will be FREE camping at the Town Ranch Area. Available dates/times coming soon… The Town Ranch Area is located in downtown Crested Butte at 9th and Red Lady Avenue, a grass and gravel area behind the school next to Tommy V softball field. Please keep in mind children will be in the area.
No check-in is necessary and RV's are welcome. Dogs are permissible with leash law in effect.  Bathrooms are available, but no showers.
Keep in mind that mandatory shuttles will be departing from downtown Crested Butte on the backcountry days, and you will be required to take the shuttles to the start of each day.
There will be NO camping in the day use lot at Crested Butte Mountain Resort before, during or after the Crested Butte Ultra Enduro. This will be patrolled and enforced throughout the week.
Click here for more information on camping in Crested Butte
Official Trail Partner: Crested Butte Mountain Bike Association
The Crested Butte Mountain Bike Association (CBMBA) is the official trail partner of the Crested Butte Ultra Enduro. CBMBA is an all volunteer, non-profit 501C3 organization dedicated to the access, building and maintenance of mountain bike trails in Crested Butte and the Gunnison Valley in Colorado. They are the oldest bike club in the world, celebrating their 31st year! Each summer CBMBA organizes several work days in conjunction with the Forest Service and BLM, building new trails and maintaining all the classic trails that so many locals and visitors love to ride.  Become an integral part of the mountain biking in Crested Butte by joining their club or showing up to help do trail work. You can also make a donation to this non-profit when you register other BME events on www.imathlete.com.